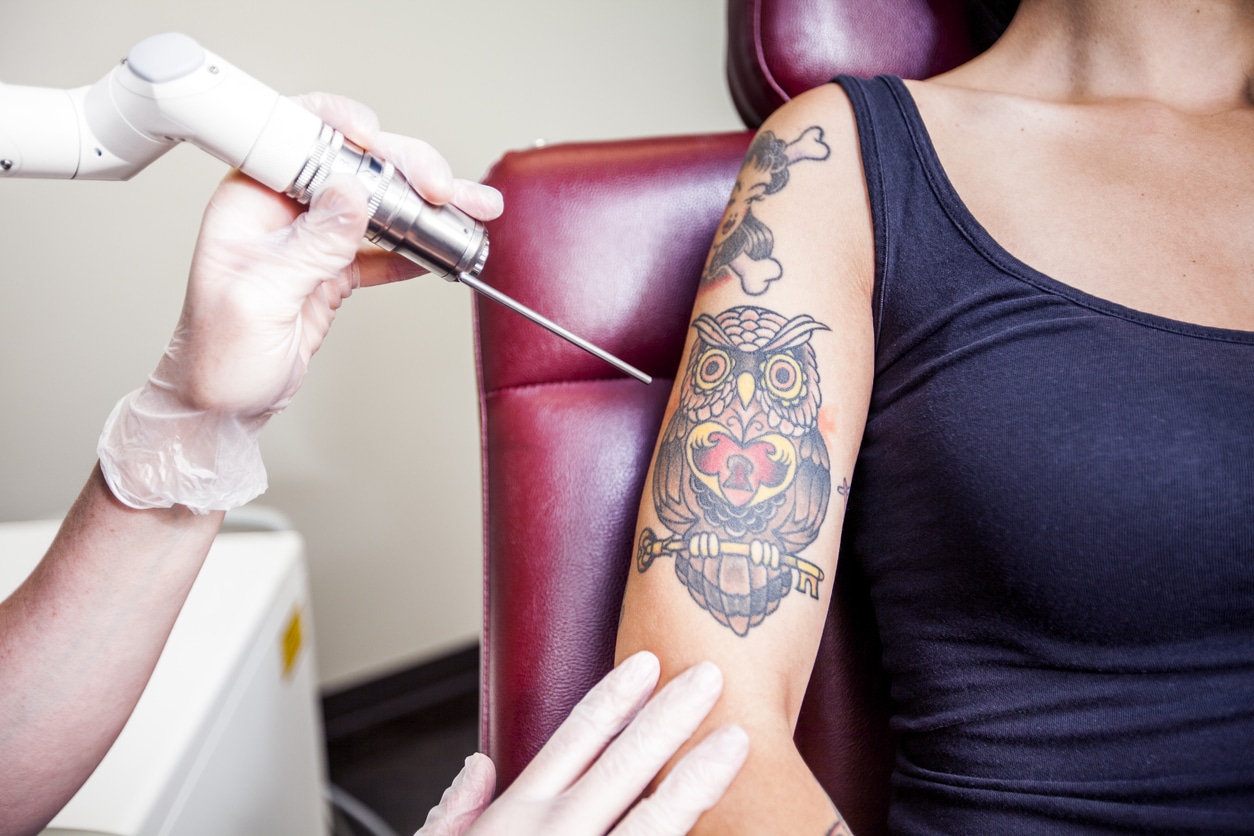 Laser Tattoo Removal FAQ – Your Top Questions Answered
Over 36% of US adults have one or more tattoos—and the practice is even more widespread in other countries and cultures. After all, a tattoo can be a symbol of belonging, a memento of a special time in your life, or a reminder of your values. And yet, nearly a quarter of those with a tattoo find it no longer appealing or relevant once they have gone through a new chapter of their lives. And they might wish to have it removed with laser tattoo removal. 
Luckily, tattoos aren't as permanent as they are often advertised, and advanced techniques such as Pinnacle Dermatology laser tattoo removal can help you eliminate a regrettable, unwanted tattoo. The laser tattoo removal procedure is extremely safe and efficient—but it is normal to have doubts and questions about what to expect. Here are some of your FAQs answered by a Pinnacle Dermatology expert. 
5 Laser Tattoo Removal FAQs – Answered!
How Does the Laser Tattoo Removal Procedure Work?
The science behind the laser tattoo removal process is straightforward. Using a handheld device, your provider at Pinnacle Dermatology will send light energy pulses into the skin. Depending on the color of your tattoo, we will use one of several different light wavelengths to precisely target the ink. 
The light, when projected to your skin, will be absorbed by the tattoo ink in your skin's dermis layer. When they absorb the light, the ink's particles heat up and shatter into fragments, which are then removed by the body's immune system. 
That is why you will see your tattoo becoming lighter in color after the first laser treatment. The tattoo will disappear altogether after subsequent treatments.
How Long Will the Laser Tattoo Removal Procedure Last?
A tattoo removal procedure offers permanent results, which means that you can count on long-lasting results for commitments such as enlisting in the military, getting a new job, or taking wedding photos. However, there are some variables that you need to take into consideration. The number of treatments you will need and overall length of time it takes for the tattoo to disappear depends on your body's ability to dispose of the ink's particles. Other factors that come into play are:
Your skin type

The tattoo's layering

The tattoo's location

Ink colors and amount of ink
You might need several laser tattoo removal appointments, which will take place once the skin is healed from the previous treatment. It's not unusual for a tattoo to take several months to fully disappear. 
Will I Experience Pain During the Removal?
Laser tattoo removal is not entirely painless, but many patients say that the procedure is not as painful as they expect it to be. You will find it to be not so different from the discomfort of getting a tattoo, if not significantly more tolerable. 
Here at Pinnacle Dermatology, we understand how intimidating tattoo removal might be. That is why we also offer numbing options to make the whole process smoother and more comfortable. 
Does Tattoo Removal Leave scars?
Unlike other methods, the laser tattoo removal procedure does not leave scarring. However, if the tattooist has created scars upon applying the tattoo, they will remain after the removal. The experts at Pinnacle Dermatology will tell you what to expect from the laser removal procedure. 
What Are the Side Effects of the Tattoo Removal Process?
Laser tattoo removal is a safe and effective procedure with minimal negative side effects. Those who do experience side effects have reported:
Blistering

Redness

Swelling

Tenderness

Bruising 
These symptoms are usually mild and disappear in a few days. Your provider will perform a thorough skin examination to make sure tattoo removal is a safe procedure for you.
Find Expert Advice At Pinnacle Dermatology
At Pinnacle Dermatology, our laser tattoo removal provides each patient with a new lease on their own skin. Get in touch with our experts today to find a tailored laser tattoo removal treatment for your needs.
No More Hiding with Laser Tattoo Removal at Pinnacle Dermatology!
Times change and so do we. Thankfully, tattoos are not as permanent as advertised. Unlike at-home, tattoo removal creams or balms, laser tattoo removal gets the job done right with minimal scarring. Don't trust your old tattoo or the skin it's in to at-home products. Call Pinnacle Dermatology to learn more about our laser tattoo removal procedure and its benefits at (843) 524-5550!