Preventative Skin Checks Near Beaufort
Understanding Skin Checks
At Pinnacle Dermatology, we recommend regular skin checks for all of our patients. These skin checks are an excellent preventative measure, especially for those with fair skin or a family history of skin cancer. Regardless of age or skin tone, routine skin checks can lead to healthier, clearer skin.
Skin cancer is increasingly common in the United States. However, skin cancer has an extremely high survival rate when diagnosed early. During a skin check, your doctor will ask you about your routine and if you have any areas of concern on your skin. Then, our Pinnacle team will look for any signs of potential skin cancer, such as any unusual moles or dark marks on the skin. Our highly qualified team will do a thorough and straightforward examination and offer advice on how to reduce your risk for skin cancer and how to take care of your skin.
Skin Cancer Symptoms & Treatment Options
The symptoms you could experience with skin cancer vary based on the type of skin cancer. The most common types of skin cancer include basal cell carcinoma, squamous cell carcinoma, and melanoma. Each of these skin cancer types presents itself differently.
Some common symptoms that our team will screen for are:
There are a variety of treatments for skin cancer. Determining the best treatment options will result from understanding the type and location of the skin cancer and the patient's overall health.
At Pinnacle Dermatology, we typically use a combination of the following treatments to treat skin cancer:
While the idea of a skin check can be intimidating, it's best to adhere to the doctors' recommendations of receiving routine skin checks. At Pinnacle Dermatology, we are determined to help each of our patients live comfortably and healthily. We partner with each of our patients to form an individualized treatment plan that works best for them.
Pinnacle Dermatology Offices

Bluffton Location.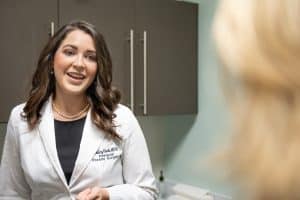 7 Mallett Way, Bluffton, SC 29910
Beaufort Location
1096 Ribaut Rd, Beaufort, SC 29902
Monday – Friday 7:30 am – 5:00 pm
Contact Pinnacle Dermatology for Skin Checks
At Pinnacle Dermatology, we recommend annual skin checks to best prevent the spread of skin cancer. If you have noticed anything unusual or experienced one of the symptoms listed above, please contact us for a professional skin check. Our Pinnacle Dermatology team members are experts at detecting, diagnosing, and treating skin cancer and helping our patients maintain healthy skin.